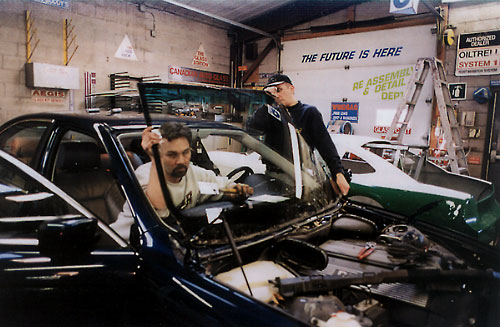 Canadian Auto Glass was founded in 1993, twenty years after the energy crisis came into play which changed the design of the automobile!
"The inception of Canadian Auto Glass was a critical inheritance to our operations" says company vice-president P.J. Hnatiuk. "In order to achieve proper weight restrictions from vehicle manufacturers, the concept of gluing or to urethane a windshield into a vehicle became prevalent.
Simply put, today's windshields are an integral component in keeping your roof from collapsing should you be involved in an automotive vehicle accident and or rollover.
Furthermore, in today's complex automobiles the windshield actually acts as a deflective wall for proper deployment of the passenger-side air bag.
Subsequently, this was a natural market for us to ensure a proper installation, and more importantly proper performance of your windshield should you have the misfortune of an automobile accident."
Thus the incorporation of the Canadian Auto Glass....home of the 1st Wash N' Vac auto glass center in the country. We'll wash and detail every vehicle with every windshield replacement!