Job security: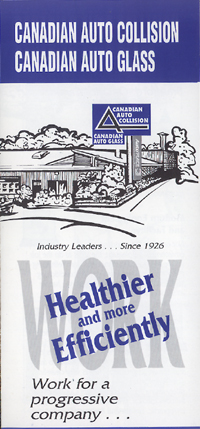 We have been an industry leader since we first opened our doors in 1926. We're a solid established company! Growing with the community, and thanks to our customer's confidence in our work, we have become a state-of-the-art facility. "In touch today, for tomorrow's growth."
Modern Equipment and Facility:
Not only will your working environment be pleasant, the tools to do the job will be the latest in technology. From refinishing to collision remanufacturing to air-conditioning services and auto glass replacement, we handle all services under one roof.
Health and Safety First:
We use a complete shop dustless extraction system (one of the first in North America) which extracts dusts at its source. We do everything possible to make sure the working environment is very clean and safe. We promote, and you will receive regular safety instructions and follow-up! Our health plan includes medical, prescription, dental, optical, chiropractic, Holistic and even veterinary!

Flexible Hours:
As long as we meet our customer needs, flexible hours are available. We always strive to get the work done during the week, so weekends can be spent at home.
Training:
Through ongoing industry seminars and training programs, we will assure you that you'll stay abreast of current technology.
Positive Environment:
You'll quickly discover that the work force is empowered at Canadian Auto Collision and Canadian Auto Glass to work freely with little supervision. You'll make decisions on your own, implement changes, and help participate in running the business. The people are friendly and the owners keep the lines of communication open.
Low Turnover:
We strive to maintain pleasant working conditions and can boast of having one of the most organized facilities in North America. Thus a low turnover rate with employees comes naturally. You'll have a sense of consistency in your fellow workers.
Feedback:
The management does a quarterly review with each employee and pay is based on objective criteria of measurement.
Quality Products:
Canadian Auto Collision and Canadian Auto Glass has high standards and produces only high-quality work. We are nationally recognized as one of the top collision re-manufacturing businesses in the country.
Low cost-of-living:
The Brantford community is located in southern Ontario between Toronto and London. The population of Brantford is nearing 90,000 residents and cost-of-living here is low, but the city offers many perks usually only found in much larger cities. Brantford without question, is a community on the move!

To find out what job opportunities await you
at CAC or CAG,
Please Download and Mail or Fax an application.
Thank You!